Had a fun day today. We had a bit of a lie in as we were both knackered from the last few days. I forgot to mention yesterday that our room consists of a bunk bed...I did book a twin room so was a bit annoyed about that, but Mum was quite happy to sleep on the top bunk...bless her, I was quite happy about that!! Anyway, we had a look around the shops this morning and went to the supermarket for some food, we were trying to hold out for the sky to clear up as we'd bought tickets to go up the mountain on the gondola. So after lunch we headed up the road to the gondolas. It wasn't a long trip, but it was an amazing view from up there, we went out onto the viewing platform and took some pictures.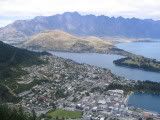 Another view.... you can just spot the paraglider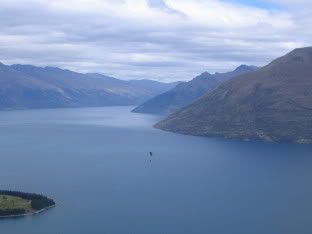 So then it was time to go on the luge which are little carts you sit in and go flying down one of two windy tracks. It was fab fun, we were a bit slow to start with, but once you get a bit of confidence you can go flying, it was great. I had such a laugh at Mum, we both looked really silly with our helmets on driving these little carts.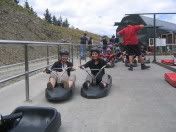 After 2 runs on the 'scenic route' we decided to brave it and go on the 'advanced route'...First off we got a bit put off as we were given red carts instead of the normal black ones we'd been in, I don't know why, but both of us couldn't quite get the knack of the brakes at the starting point, we were of course just being silly, but I changed my cart to a black one and felt a lot better about it!! anyway it was brilliant, you have to really concentrate as you are going pretty fast down the hill and they have so many bends in them. We were in fits of giggles, at one point there is a little hill and straight after a really, really steep one...Mum happened to be in front of me at this point, and all I heard was 'oh my god' and she just disappeared, then it was my turn, and I must say it shook me up a bit, but it was a real buzz.....we had to go on the scenic route again after that just to calm our nerves!! We did go on the advanced one again on our last go though!! When we'd done with that, we got the gondola back down again. We didn't really do much for the rest of the afternoon. The guy from reception found us and told us that our Milford Sound tour had been cancelled for tomorrow, so we are going on Thursday instead, not sure what we're going to do tomorrow now. We've just been to the cinema, there wasn't much on, we saw Cheaper by the dozen 2, it was ok, just a bit of easy watching.
I took the last of my dressings from my New Years eve injuries last night, everything has healed up, apart from them looking a bit pink they're fine, I just hope I don't get any scars.
Here are some pics from yesterday...
Mum and I at Knights Point lookout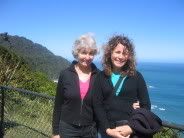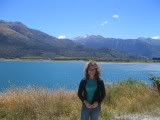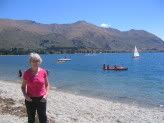 Someone jumping of the AJ Hackett bungy bridge