I've finally found 5 mins to update my blog!
So Mum arrived last Thursday, her flight was a bit delayed, so I was hanging around the airport for ages, I was a bit nervous, but excited about seeing her. She finally came through the gates and we had a big hug. She looked really well, especially considering she'd been flying for 24 hours. We took her back to the flat where she met my flatmates, I guess it must have been a bit hard for her after the long journey to meet lots of people when she was knackered, but she coped well.
The next day we went for a drive to show her a bit of the city. We drove over the Harbour bridge and she saw the Opera house (I think I was more excited about that than Mum was!!) Then we went to Watsons bay and had some fish and chips and ice cream. Then we took her to Bondi, to show her the famous beach, I hadn't been there for ages and I must say it is very nice. That evening when we got back, we had to pack our stuff for Melbourne so we didn't go out.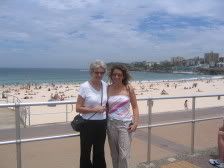 Next day we had a leisurely drive to the airport for our flight. The flight was pretty bumpy to start with, so I was holding onto Mum's hand as hard as I could, she thought it was very amusing!! Luckily the flight was pretty short. We landed about 1.5 hours later and we really noticed the temperature drop from Sydney, it was really cold (well about 20 degrees!!). We jumped on the bus to Melbourne which took us about 50 mins. I was really suprised that Melbourne isn't really as big as I thought it would be, and the surrounding land is nothing much at all, just farmland. The taxi driver finally got us to our hotel, he found it after a lot of looking in the map! It was a nice place, we went for the self serviced apartment in the end, so we could cook our own meals (saves a bit of money!). After we'd settled in, we took a walk to Fitzroy Gardens, which were very beautiful, they reminded me a lot of the gardens in Sydney. Then we found the city circle tram line, which is a free service that goes right around the city, we jumped on there so we could have a look around. After that we went to the supermarket to pick up some food and went back to the apartment for some dinner and an early night.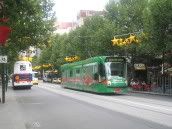 Next day we had a bit of a sleep in, then went to the Queen Victoria market, which was huge, we didn't really buy much there though, mostly fruit and veg! As the weather wasn't so good, it was raining on and off, we thought we'd have a proper shopping day. We walked to a big shopping mall, and I managed to spend Mum's money for her, she bought a couple of tops there. Then we went to the exhibition centre as they had a big warehouse sale on, we didn't last long in there though, it was huge!! Then we went back to the city, I saw a tour office with an advert for Great Ocean Road day trips, we tried to book on one, but everywhere had sold out, gutted!! We were trying to hang around until it got dark so we could see the Christmas lights, so we decided to eat out. Mum is very fussy, and there wasn't much open, so we had a struggle to find somewhere nice. I thought we'd go to Chinatown cos at least Mum could have some rice and veg, but it turned out they put this horrible sauce on it, so we didn't really enjoy our meal at all, what a waste!! When we'd come out it was nearly dark so we went to look at the Christmas tree on Federation Square....not much going on there though, so we decided to go home....we were both knackered, we'd been walking for 9 hours!!
Christmas tree at Federation Square (obviously not taken at night though)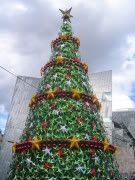 Next day, my legs were killing me, I'd felt like I'd done a work out at the gym! First stop was the outlet shops, not much on there though, mostly really young fashion. I wanted to try and get on the Neighbours tour, so we went to the tourist info office, but guess what...that was sold out too :-( I couldn't believe it, normally I'm so organised with my trips, but cos this trip just crept up on me, I hadn't really done a lot of preparation, never mind. We then just took a river cruise on the Yarra river, which was really nice (I have to say, not a patch on the scenery in Sydney though). That took us an hour, then we had a sleep in the park (we were still shattered) then guess what...we went shopping again!! Mum bought a few more things, then on the way back to the apartment we had a quick look at St Patricks cathedral, which was very big and beautiful, then it was time to go home and cook a lovely stir fry with the veggies we'd bought the day before.
Tuesday was our last day, so after we'd checked out, we got on the tram to St Kilda beach. It was really lovely there, the beach wasn't the best, but the little street nearby was great, they had loads of cafes and restaurants there, so we had lunch and some more ice cream.
We had a couple of hours there, then we took our time walking back to the hotel to pick up our bags and then made our way to the bus station to get to the airport. The flight was another quick one, a bit bumpy again, but not too bad....I must get back to the doctors to buy some more valium!!
We are now staying in Clovelly (they've got broadband, so I'm able to catch up on all my mails!) Yesterday, I took Mum to Randwick, we both bought some shoes and some hairstuff and then went to the supermarket for food. We'd taken longer than we'd hoped and we had to rush back as we had to be in the city for 7pm to meet John and Liz (John is my ex-colleague from Munich) they are over to visit their kids, who live here, so it was really nice to see them all.
We had a nice dinner with them, then I took Mum for a quick tour of Hyde Park and my old house I used to live in, then we got the bus back. We gave Chris a ring in Slovakia, we won't be able to speak to him over Christmas, so we had to say our greetings then, was lovely to speak to him again, it'd been ages!
Today, I've just been busy trying to sort out changes of flights and lots of other stuff, we're just off out for a walk now. I think Mum is a bit tired still, her feet haven't really touched the ground, she's almost stopped falling asleep randomly throughout the day, so that's something!!